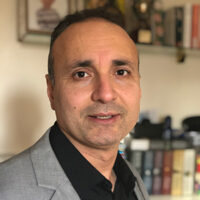 Principal Clinical Consultant
Dr. Bashir has 15+ years of experience in designing and executing clinical and drug development programs for international pharma and biotech companies to drive the successful development and launch of multiple innovative and biosimilar medicines. 
Dr. Bashir's strengths include leading successful trial design and conduct, leading IND, CTA, BLA, NDA and MAA submissions and gaining approval for multiple new indications and line extensions; designing and implementing robust protocols and clinical databases to facilitate successful Phase I-III clinical trials; overseeing and coordinating medical monitoring and safety data review activities; providing clinical and medical affairs support to companies developing early and late stage oncology and hematology therapeutics including monoclonal antibodies including rituximab, Obinutuzumab, bevacizumab, radiopharmaceuticals, Antibody Drug Conjugates, CAR-T cell and gene therapy and immune-oncology molecules and other innovative checkpoint inhibitors and targeted therapeutics. 
Dr. Bashir has served as Chief Medical Officer (CMO) and led oncology and hematology clinical development teams in various pharma and biotech organizations. 
Areas of Therapeutic Expertise:
Hodgkin's and Non-Hodgkin's Lymphoma
Acute Myeloid Leukemia and Chronic Lymphocytic Leukemia
Urothelial and Cholangiocarcinoma
Ovarian Cancer
Gastric, Esophageal and colorectal cancer
Renal Cell Carcinoma
Small and Non-Small Cell Lung Cancer
PTLD and other EBV-positive tumors
Regulatory Expertise:
Early and Late Phase Clinical Development
Immunotherapy, Cell and Gene Therapy Development
Biosimilar Clinical Development
BLA, NDA and MAA Submissions
Protocol and Clinical Database Design
Medical Monitoring and Safety Data Review
Real-world studies and data collection
Early Access Programs and ILAP (MHRA)
Marketing Applications Experience:
Dr. Bashir has contributed to over 25 BLA, NDA and MAA applications and submissions for various oncology and hematology biologic therapies, small molecules and cell and gene therapy products. 
BLA and MAA– Led multiple BLA and MAA filing activities, most recently successful approval of Avastin biosimilar as the Chief Medical Officer. 
CAR T Therapy (Yescarta) DLBLC sBLA and type II variations; Tacartus BLA and MAA in MCL, Gazyva BLA and MAA in CLL and NHL.
Request a Free Consultation
Please fill out form below and we will call you back.