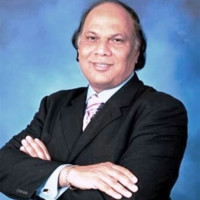 Dr. Dixit is an accomplished executive, inventor, and scientist with over 30 years of success with top biotechnology and pharmaceutical companies, including Merck, Johnson&Johnson, Medimmune, AstraZeneca. Dr. Dixit was selected by pharmaceutical peers as the 100 Most Inspiring People in Pharmaceutical Industry by PharmaVOICE in 2015.
Dr. Dixit is a key opinion leader in biologics drug development, translational pharmacology, DM-PK and safety Assessment with outstanding knowledge and proven experience in drug discovery, preclinical, and clinical development from IND/CTA, phase I, II, III, BLA/MAA, and approval. Strong track record in building business franchises and in building relationships with investors, media, and analysts.
Below is just a short list of Dr. Dixit's accompliments and experiences.
From IND to NDA or BLA Approvals: A key contributor to successful marketing approval of 10 different marketed biopharmaceuticals
At Medimmune (AstraZeneca Biologics)
Imfinzi (anti-PD-L1 mab)- lung and bladder cancer
Fasenra (anti-IL-5R afucsolytated mab)- ashthma
Brodalumab (anti-IL-17) in collaboration with Amgen- Psoriasis
Moxetumomab (anti-CD22-PEA immunotoxin)- hairy cell leukemia
MAXALT (Anti-migraine)-1998
SINGULAIR (Anti-Asthma)-1998
CRIXIVAN (Anti-AIDS)-1998
VIOXX (COX-2 Inhibitor)- 2000
EMEND- 2003

Therapeutic Areas Expertise:

Oncology
Respiratory, inflammatory and autoimmune diseases
Cardiovascular, renal and metabolic diseases
Infectious diseases and vaccines biologics

Technical expertise to support your drug development needs

Translational Sciences
Toxicology (DABT)
Safety Assessment
DM-PK
Large molecule products: bispecifics, ADCs, Cell and Gene Therapes
Small molecule products
Vaccines
Dr. Dixit conducted extensive graduate and post-graduate training in Toxicology–Biochemistry with both Indian (University of Lucknow) and US Institutions (Case Western Reserve University, Medical College of Ohio State, University of Nebraska Medical Center) and is board certified in Toxicology from the American Board of Toxicology, Inc. since 1992.
In December 1992, Rakesh joined the Department of Safety Assessment, Merck where he served in various management positions.  During his about 14 years with Merck, Rakesh contributed to the successful filings of many blockbuster drugs.
For about a year, Rakesh was also associated with Johnson and Johnson PRD, La Jolla/Alza as a Senior Director of Toxicology. In Aug 2006, Rakesh joined MedImmune, Inc. (an AstraZeneca Biologics company) as Senior Director (R &D) & Global Head of Biologics Safety Assessment, Experimental Pathology, and Laboratory Animal Medicine.  In his current position as a Vice President of R&D since 2010, Rakesh is responsible for providing guidance on R&D of biological products; including nonclinical toxicology/safety support for all AstraZeneca-MedImmune biologics products, including monoclonal antibodies and vaccines.
Dr. Dixit has published 80 peer-reviewed papers in renowned international journals. He was invited for more than 130 lectures/presentations/workshops in national and international meetings world-wide.  One of the top most invited speakers in the biotechnology-biopharm industry, Neurology and psychiatric diseases biologics and small molecules
Rakesh also serves as an expert reviewer and in appointed committee for many programs managed by the prestigious U.S. National Academy of Sciences and US National Institutes of Health, including National Cancer Institute.  
Request a Free Consultation
Please fill out form below and we will call you back.